EDGE was originally founded as EDGE Publishing in 2006, with the desire to improve student learning experience. We first published within the professional and occupational sector, later moving into the higher education space in 2009. In the same year, we recognised the proliferation of digitised content in publishing and education, and changed our name to EDGE Learning Media.
Over the next five years, we honed our skills in publishing, instructional design and eLearning. In 2014, we began to integrate print and multimedia. The EDGE Learning Ecosystem (ELE) was launched in 2016, with the purpose of delivering a multimedia-enriched digital learning experience.
Today, we create and deliver both print and digital learning experiences, which are able to meet the diverse needs of our clients and their students.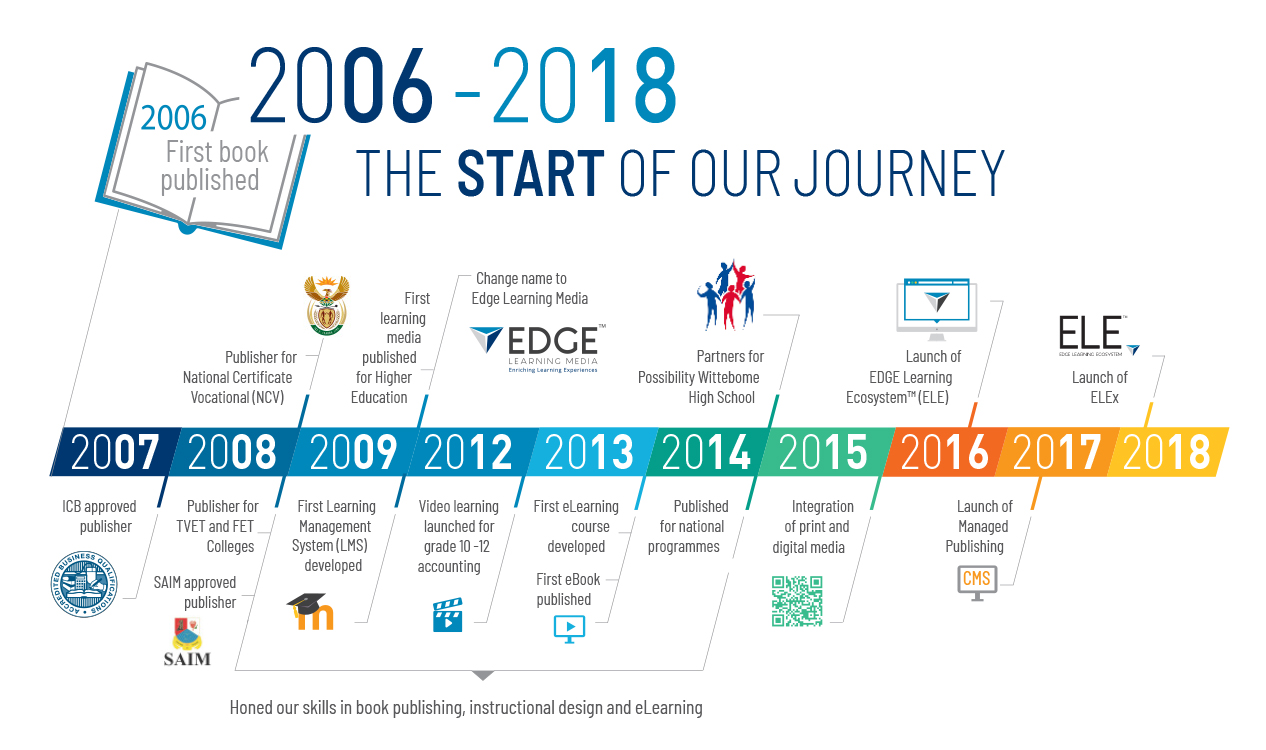 VISION, VALUES AND IDENTITY
Vision
We want to enable the delivery of enriched, versatile, innovative and accessible learning experiences for the betterment of people, society and the world.
Values and identity  
We are socially engaged
Academic publishing is our genesis
We are experts in education
We understand the academic and training landscapes
We are innovators of learning
Digital is in our DNA
We form partnerships
We empower our clients and their students
KNOWLEDGE, SKILLS AND BEST PRACTICE
EDGE is a learning media company. As such, we create and deliver enriching learning experiences. To achieve this, we consistently apply ourselves in all areas of education and training. We empower our employees as educators, and we position ourselves as thought leaders at the forefront of academic research, skills and best practice. It is our aim to continuously innovate, and to implement these best practices in our products and services.
We have a thorough understanding of:
Learning theories, outcomes and objectives
Quality assurance processes and accreditation
Curriculation and learning experience design
Programme and course design
Textbook publishing
Instructional design, course design and eLearning interaction design
Learning management systems (LMSs)
Educational video production
Assessment
Student support